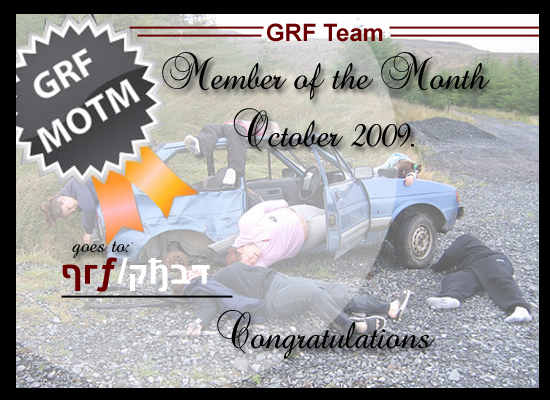 Member of the Month - Competition starts now!
It is time to spice things up a bit, so i decided to award the members who are hard working and gives very much for their team. Note that only GRF members can participate in this competition. First of all, how to even get nominated...
Conditions:
- if you didnt
introduce yourself
, or even
put your photo
, you
cant get nominated!
- only members in
Top50
on
grf/buksa!
can get nominated!
Nominations:
The more things you do from this list, the greater the chance to get nominated:
- play online
- build maps and post them on TMX and on the forum
- make replays (compilation of various maps or just a map you created) and post them in the forum*
- post in the forum (this does not include posting like: "LOL", "Nice!", "

"... Only quality posts or even interesting topics counts)
- participating on training and clan wars
These are just basic things that can make you nominated for the Member of the Month, and if you really like what someone is doing from that list, reply in the post something like this:
"I would like to nominate this person for MOTM because he...."
You can nominate people until 20th of the month, and every nominee will be put in the poll... Voting on the poll will be from 20th of the month until the last day of the month.
Member with the most votes, wins MOTM competition.
You cant nominate people between 20th of the month and the last day of the month, you can only vote for nominees.
After the winner has been chosen, new MOTM competition for the next month begins.
Rules:
- if you are the winner of this month's MOTM competition, you cannot be nominated for the next month
- if you are the winner and you have original key, you dont get one
PRIZE:
Winner gets 1 karma point and
Original Key for TMN authentification!
Good luck everybody!
___
*
if you dont know how to make replay videos, here is tutorial.
Last edited by phatprick on Wed Nov 25, 2009 10:08 pm; edited 4 times in total